Hyundai Motorsport N #1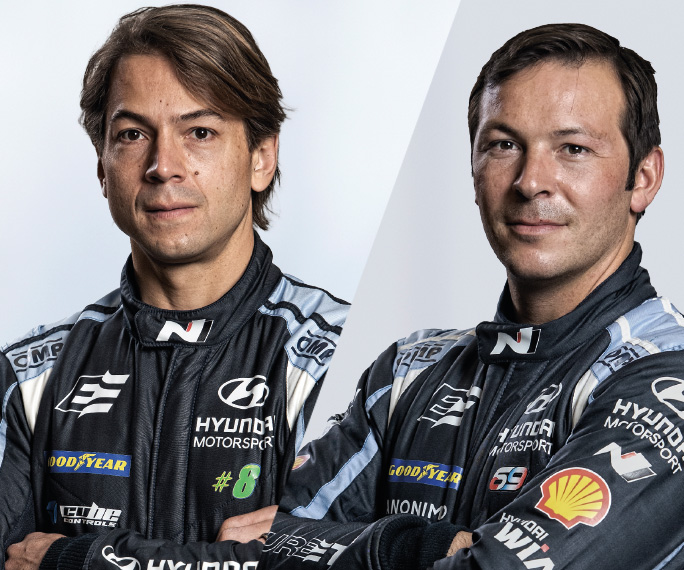 Augusto Farfus
Growing up in Brazil, Augusto showed a passion for racing from a very young age. At only six years old he began riding mini-motorcycles in his hometown of Curitiba, quickly establishing his talent and earning himself the moniker 'Magic Motorcycle Boy'. He progressed to karting in 1992, and by the end of his first season had clinched the Paranaense Championship. After sealing numerous national titles, Augusto progressed into single-seater racing, in which he was crowned European Formula Renault champion in 2001 and European Formula 3000 champion in 2003. Off the back of these successes, he competed in the European Touring Car Championship in 2004, before moving into the World Touring Car Championship in 2005. Augusto spent six seasons in the WTCC, picking up 32 podiums and twice finishing third in the driver's championship. His next challenge was Deutsche Tourenwagen Masters (DTM), in which he spent seven years. The highlight of this period was his second place finish in the 2013 season.
In 2019, Augusto joined Hyundai to race our i30 N TCR in the World Touring Car Cup, picking up two podiums in his debut season with our team. In the same year, he also claimed victory in the GTLM class at the 24 Hours of Daytona, a feat he then repeated in 2020. Augusto was the test and development driver of our first-ever electric race car, the Veloster N ETCR, and will be behind the wheel for its competitive debut in the inaugural PURE ETCR season in 2021.
J.K. Vernay
Jean-Karl is a highly experienced and versatile driver, having been successful in a number of different motorsport series over his 16 year career. The Frenchman started in single-seater's, spending three years in the Formula 3 Euro series before moving to Indy Lights in 2010 where he won the championship in his debut season. He then transitioned to GT racing, winning the 2012 Porsche Carrera Cup France. Jean-Karl found success in the world of endurance racing, taking part in multiple seasons of the FIA World Endurance Championship and winning the iconic 24 Hours of Le Mans in the LMGTE Am class in 2013. In 2016, he moved over to touring cars and competed in the TCR International Series. He won the driver's title in only his second season in the championship before making the move to the FIA World Touring Car Cup.
During his three years at the pinnacle of touring car racing, Jean-Karl has collected five race wins and twelve podiums, and finished third overall in the 2020 season. Jean-Karl joined our team later that year as a test driver for the Veloster N ETCR. He will run a combined calendar in 2021, competing with the Veloster N ETCR in the debut PURE ETCR season alongside his WTCR duties.
Hyundai Motorsport N #2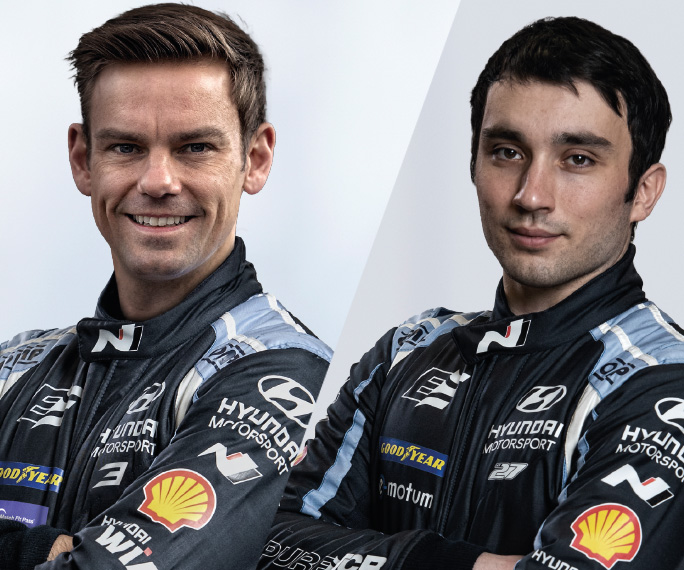 Tom Chilton
Tom is a highly experienced touring car driver, boasting 21 wins across the British Touring Car Championship (BTCC) and World Touring Car Championship (WTCC) in his 19-year career. His most recent success was claiming the WTCC Independent's Trophy in 2017. The Brit began racing in the BTCC in 2002, the start of a 10-season span in the championship. With 44 national podiums under his belt, Tom then moved up to WTCC in 2012. He went on to achieve 22 podium finishes at the pinnacle of touring car racing, as well as taking third place in the overall drivers' championship in 2017.
In addition to his touring car success, Tom had a brief stint in prototype endurance racing. In 2005, he competed in multiple rounds of both the American Le Mans Series and European Le Mans Series. He was able to grab an overall victory in each of the championships, racing in an LMP1 Zytek. 2021 will be Tom's first year with Hyundai, racing our Veloster N ETCR in the inaugural PURE ETCR season.
John Filippi
Hailing from the French island of Corsica, John began his racing career in 2012, competing in the Single Seater V de V Challenge. In his second year in the series, John won the championship and moved up to Eurocup Formula Renault 2.0. In 2014, the Frenchman made the switch from single-seaters to touring cars, securing a drive in the World Touring Car Championship (WTCC). He spent five seasons at the pinnacle of touring car racing, picking up numerous top-ten finishes and showcasing impressive speed throughout his time in the championship. John has since taken part in the TCR Europe Touring Car Series, piloting our i30 N TCR in his second year in the championship in 2020. Behind the wheel of the Hyundai he secured a number of podium finishes on his way to second place in the drivers' championship. John is one of four drivers set to take on the inaugural PURE ETCR season in our Veloster N ETCR in 2021.
Ole & Jonas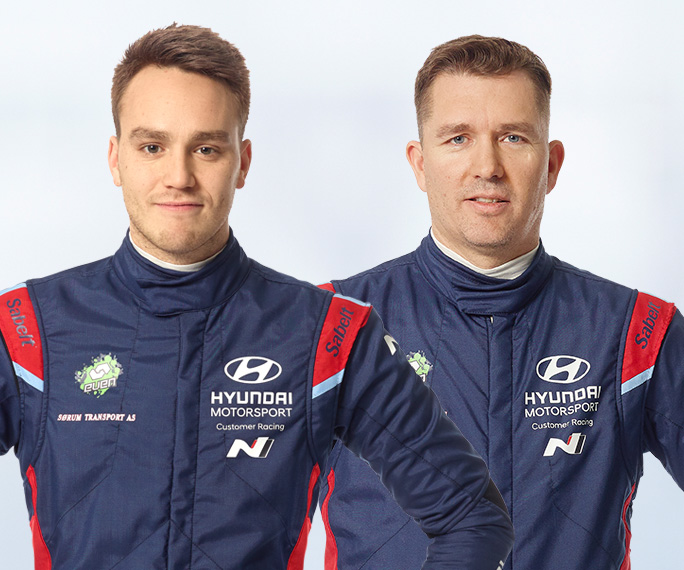 Ole Christian Veiby
Date of birth: June 17th, 1996
Place of birth: Kongsvinger, Norway
WRC 2 debut: 2016 Rally Sweden
Jonas Andersson
Date of birth: January 1st, 1977
Place of birth: Arvika, Sweden
WRC 2 debut: 2016 Rally Sweden
Oliver & Aaron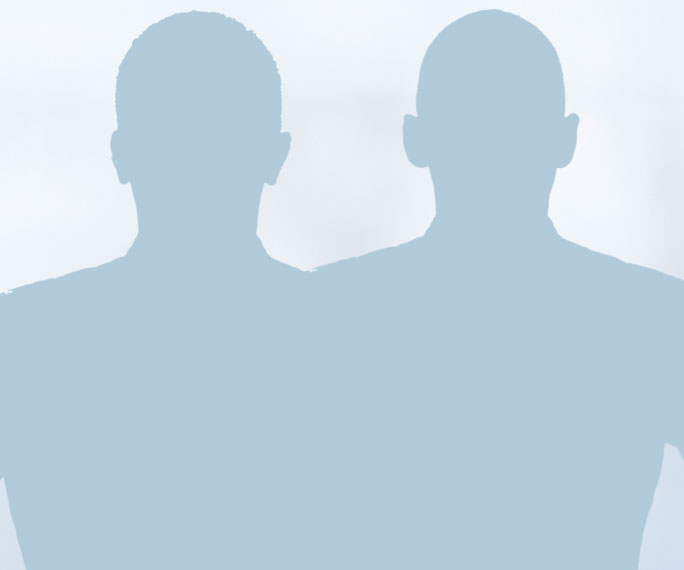 Oliver Solberg
Date of birth: September 23rd, 2001
Place of birth: Fredrikstad, Norway
WRC 2 debut: 2019 Wales Rally GB
Aaron Johnston
Date of birth: February 2nd, 1995
Place of birth: Fintona, Ireland
WRC 2 debut: 2019 Wales Rally GB
You might also be interested in
---
We are hiring
Career at HMSG
Want to be part of our team? Visit our career page for jobs and application form!
Apply now
The FIA World Rally Championship (WRC) is the undisputed pinnacle of the sport, where the world's best drivers and their co-drivers vie for glory.
Explore
Established on 19 December 2012, Hyundai Motorsport GmbH (HMSG) is responsible for Hyundai's global motorsport activities.
Discover now