Ever wondered what makes a WRC crew such a potent partnership? We caught up with each of our driving duos to find out more about them as individuals and what makes them work so well as a team. Discover all about their careers so far, as well as their hobbies and highlights right here.
Thierry & Martijn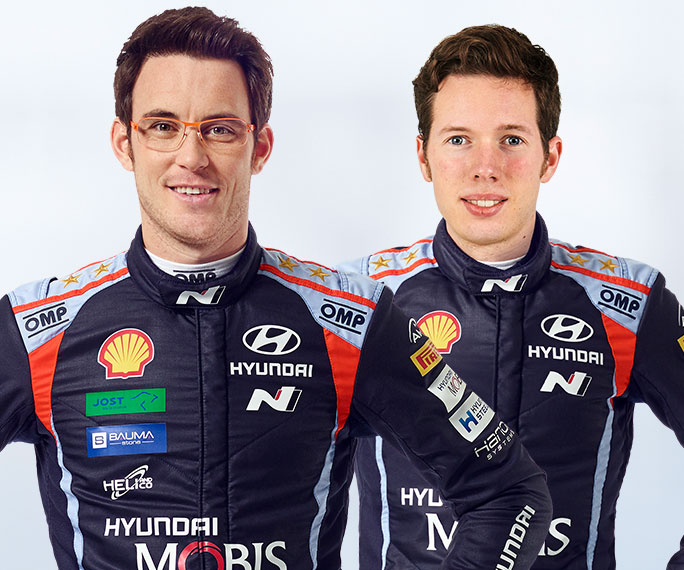 Belgian Thierry embarks on a new working relationship in 2021, with co-driver Martijn joining him in the car at the first round of the season in Rallye Monte-Carlo. Now in his eighth season with our team, Thierry knows us inside and out. "The team and I have a great calibration; our hard work has seen us improve every year and resulted in two titles for the team," says Thierry. Martijn is no stranger to the Hyundai family, having joined us in 2016 as part of our Hyundai Motorsport Driver Development Program (HMDP). "I am ready for this amazing challenge and very proud to be part of the team," he smiles.
Ott & Martin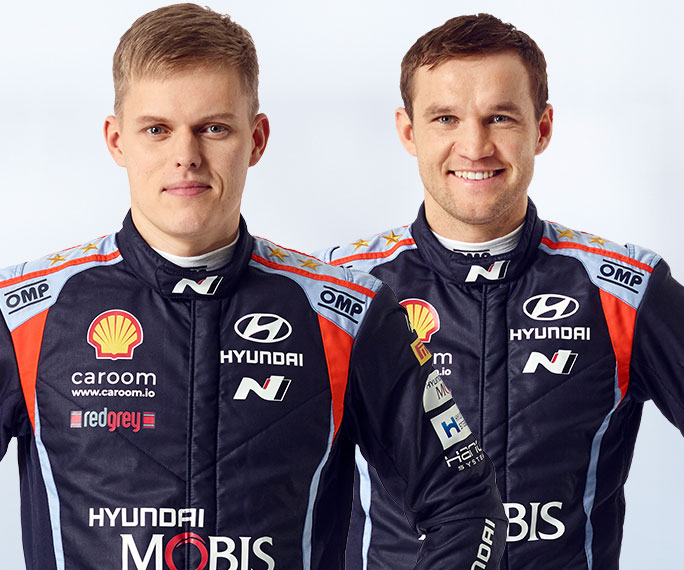 Ott and Martin joined the Hyundai Motorsport family in 2020 and enjoyed a successful first season with the team, achieving 4 podium finishes in 7 races, including victory at their home event, Rally Estonia. The Estonian duo describe themselves as a "hard-working" (Ott) and "determined" (Martin). Their work ethic is an evident success of their partnership: "My pre-stage ritual is to make sure I have done all the things that are up to me so that the result is as good as possible," says Martin, while Ott "relaxes and focusses." The better mechanic of the two "is the same guy who normally gives a reason to fix something," according to Martin. "So normally me!" echoes Ott. If they were to switch roles, Martin believes he would perform "very well – on the road section." Ott is equally honest about his co-driving talent: "Bad."
Dani & Cándido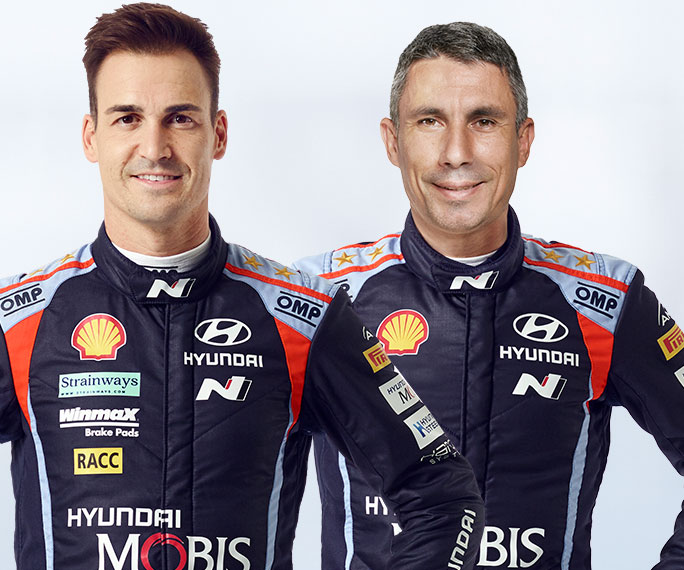 Dani will be joined by a new face for the second half of the 2021 WRC season, as he is joined by fellow Spaniard Cándido Carrera. Dani and Cándido will take to the stages for the first time as a crew at Ypres Rally Belgium, Round 8 of the championship, with both looking forward to starting their new partnership. The pair will work together until the end of the year with the goal of helping us win our third consecutive manufacturers' title.
Craig & Paul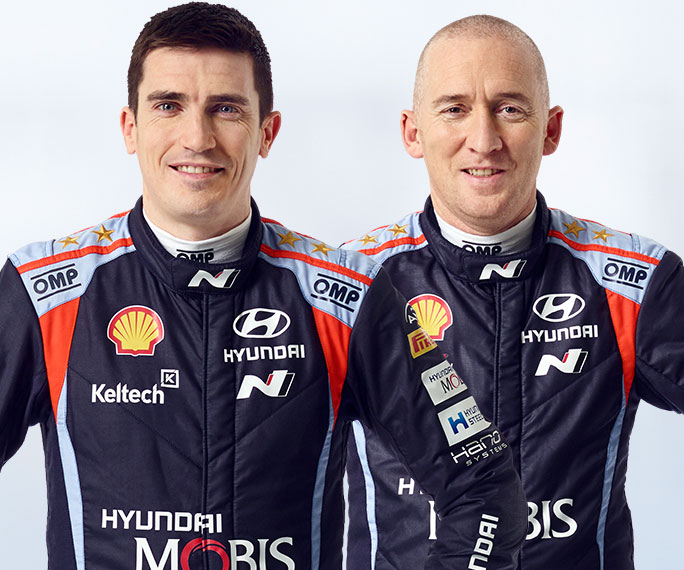 Our Irish crew share a common goal when it comes to rallying. "We are serious when it comes to our job, but we know how to enjoy it along the way – a perfect combination," says Craig. However they both have different approaches when it comes to preparing for an event; Paul describes his ritual as "making sure the boot and bonnet pins are closed." Craig, on the other hand, has to put on his equipment in the same order, "or if I do it out of sequence, I have to start all over again!" There are no disagreements about who is the better mechanic: "Craig for sure. I just about know how to change tyres," admits Paul. Craig has successfully co-driven his father to wins, but the chances of them switching roles seem unlikely. "My driving is not the best, Craig would refuse to be my co-driver!", laughs Paul.
You might also be interested in
---
We are hiring
Career at HMSG
Want to be part of our team? Visit our career page for jobs and application form!
Apply now
The FIA World Rally Championship (WRC) is the undisputed pinnacle of the sport, where the world's best drivers and their co-drivers vie for glory.
Explore
Established on 19 December 2012, Hyundai Motorsport GmbH (HMSG) is responsible for Hyundai's global motorsport activities.
Discover now