Reflections and recaps on our WRC manufacturers' championship
In a sprint season unlike any other faced in recent times, we had to dig deeper than ever to fulfil our pre-season objectives of defending our manufacturers' championship.
A double podium in Rally Monza saw us take our second title* with a five-point margin, but we had to work incredibly hard to overcome renewed competition as we aimed to build on our debut title in 2019.
"The performance and attitude of Hyundai Motorsport in this most challenging of seasons has perfectly embodied the character of Hyundai and our N brand," said Executive Vice President and head of the Product Division at Hyundai Motor Group, Mr. Thomas Schemera.
"You don't win a title by luck; it is earned through tenacity, ambition, determination and sheer hard work with a human touch. Congratulations to the team for showcasing and upholding Hyundai's principles and values in such difficult circumstances. We have already seen the positive effect that our WRC activities have on the Hyundai brand with the all-new i20 N set to bring the thrill of rally driving to customers around the world."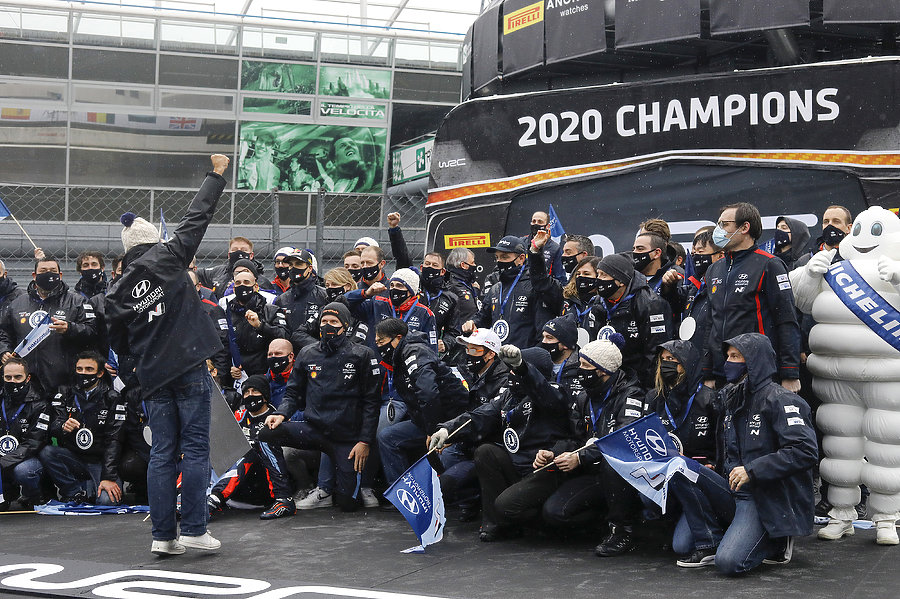 Defending the crown
We came out of the blocks confidently at the season-opener in Monte-Carlo back in January. Thierry and Nicolas earned an early advantage, but it was quickly apparent that 2020 would be another closely fought championship.
"I am delighted for everyone in the team that we can celebrate a second manufacturers' title together," said Thierry. "My personal highlight of the season was pre-pandemic with our win in Monte-Carlo, a really special result that got the year off to just the right start."
Subsequent rounds in Sweden and Mexico were both condensed events, the latter due to the escalating pandemic that would cease championship action for six months. Newcomers Ott and Martin picked up their first podiums for our team with consecutive second-placed finishes in those two shortened rallies prior to lockdown.
We didn't rest on our laurels during the closed period. We revolutionised our way of work to regroup remotely. It was an unprecedented challenge that tested the resolve of the entire team, but it was also an approach that ultimately reaped rewards.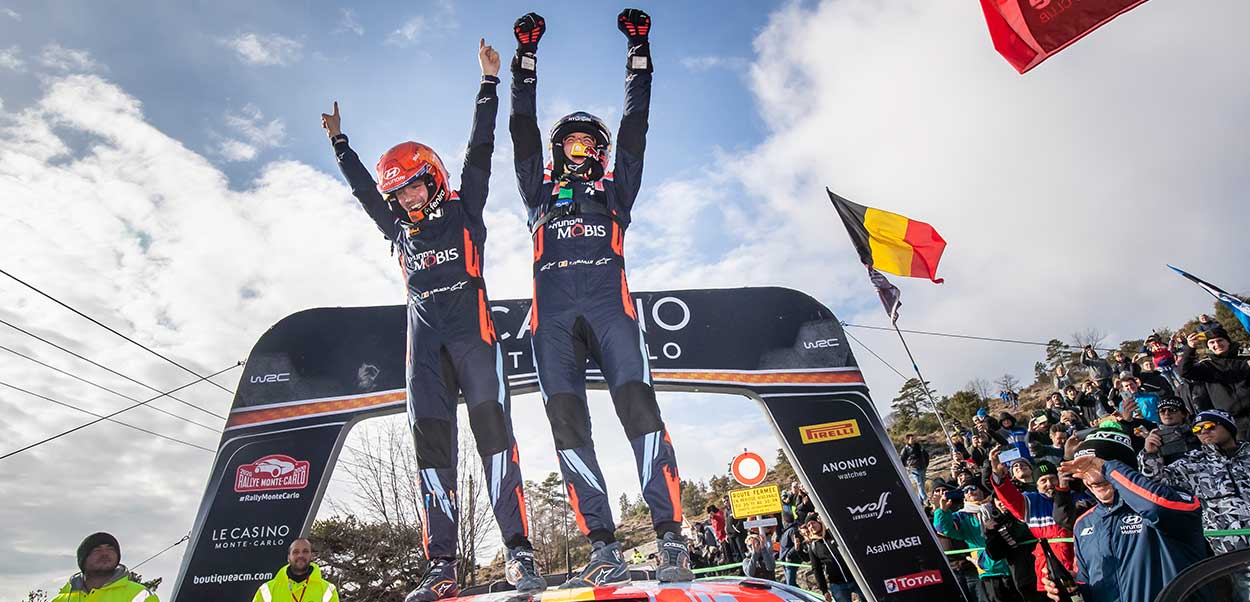 Coming back stronger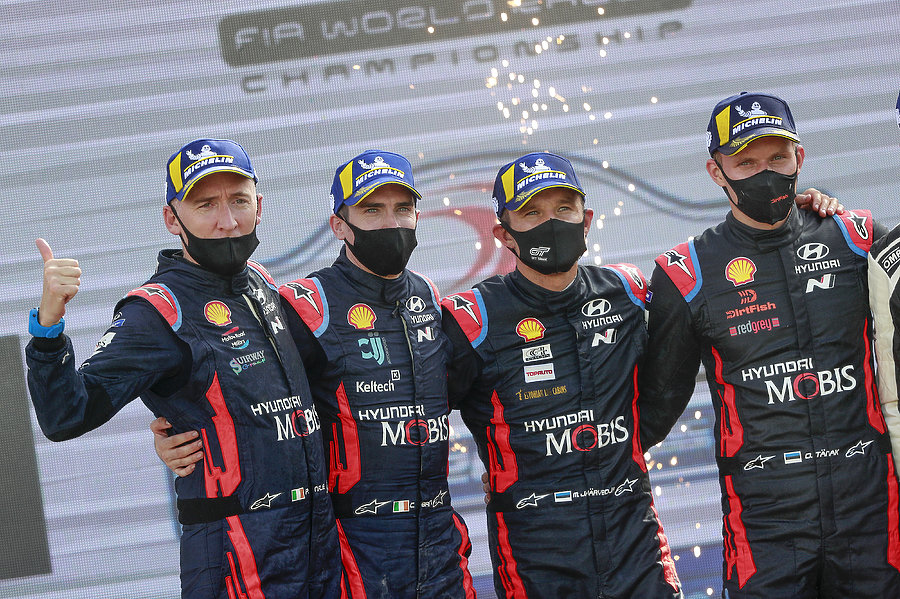 As the WRC season resumed in Estonia in September, intentions were clear. A 1-2, led by Ott and Martin, backed up by Craig and Paul, confirmed our progress during lockdown.
"I was impressed by how everyone responded to the very difficult challenge of the pandemic," said Ott. "This title is the result of that hard work and determination."
Craig added: "I had the privilege to represent the team in two events this year, and I'd like to think our performance in Estonia contributed in a small way to this title. It's been a huge team effort."
Rally Turkey saw Sébastien and Daniel back on the podium for our team, as we continued to mount our championship fightback. "It has been a joy to have been part of the journey for the past two seasons," said Sébastien. "The podium in Turkey was a great memory for me to take away personally but to win a manufacturers' title again is a joint result."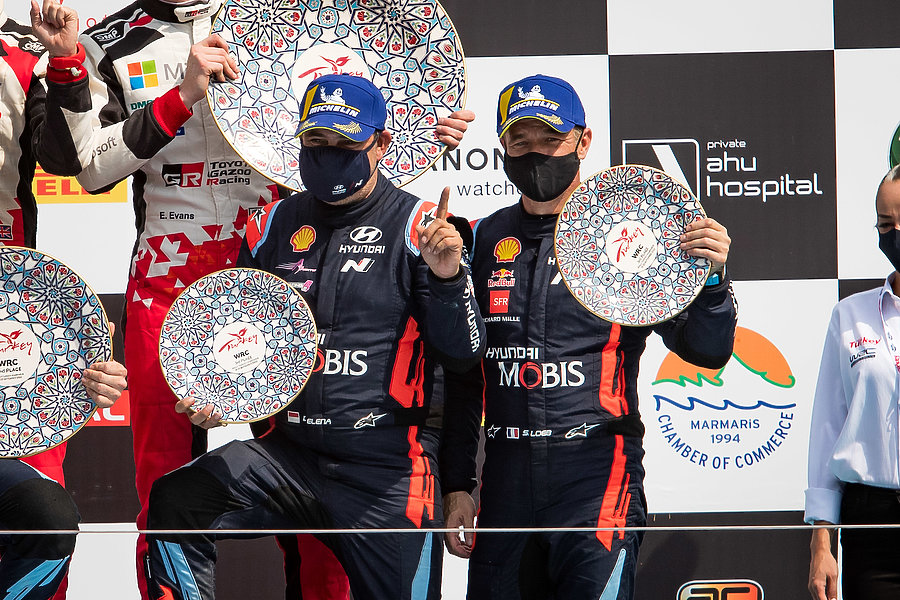 The essence of N
All five of our crews took top-three results in 2020, with Dani and Carlos completing that statistic with a sublime performance in Sardinia, as they picked up their second victory as part of a 1-2 with our Belgian crew.
"It's been a tough year, and this is the sort of positive lift that we all need heading into the winter," said Dani. "Winning again in Sardinia was fantastic and we didn't realise just how decisive that result would be for the championship."
Demonstrating the spirit of Hyundai's high-performance N brand, we secured three wins in total across three different crews, and a total of 11 individual podiums, including two 1-2 results.
"Motorsport is the ideal place to showcase and realise the potential of Hyundai cars to our customers," said Vice President and head of N Brand Management Motorsport Sub-division at Hyundai Motor Company, Mr. Till Wartenberg. "The achievements of Hyundai Motorsport in WRC represent the essence of our N brand, putting precision, performance and emotion at the core. This year has not solely been a challenge for the team to overcome the opposition, they have also had to challenge themselves in all areas to be crowned champions again. A truly N-spiring performance."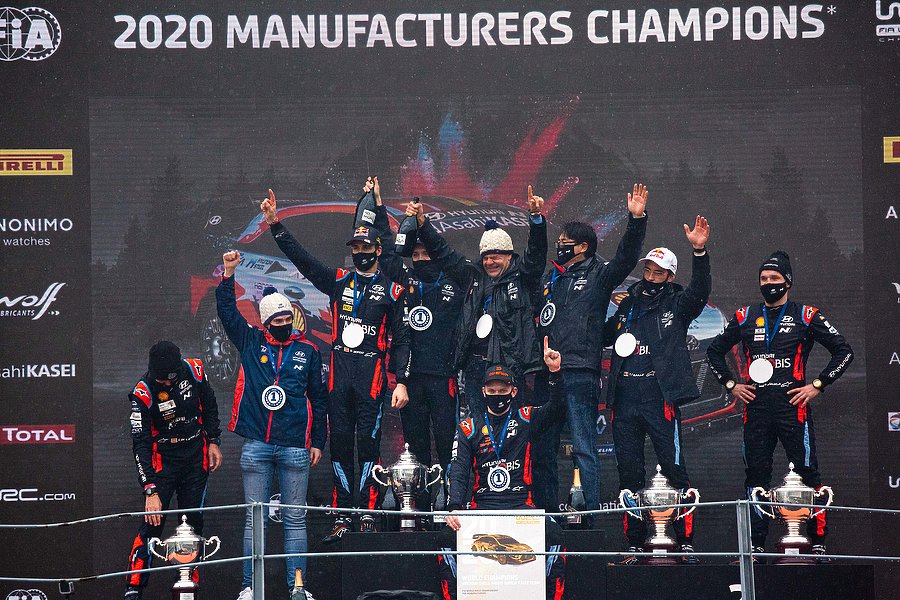 *subject to the official publication of the results by the FIA