Esapekka & Janne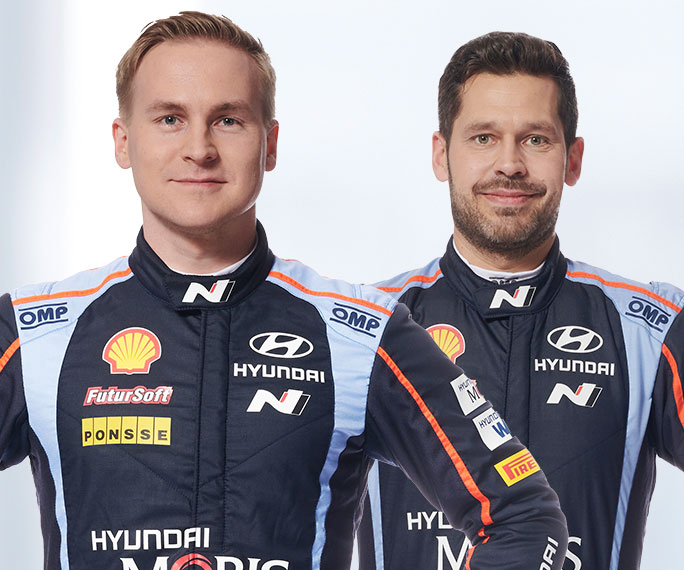 The pairing of Esapekka and Janne joins us in 2023, running the full 13-event WRC calendar in our hybrid-powered i20 N Rally1 Hybrid. The Finns bring with them multiple years of WRC experience, eight podiums and a victory at Rally Finland. While they are known for having fun and a laugh around the service park, once on the stages they are serious about success. Despite his extensive experience at the pinnacle of rallying, Esapekka is the youngest driver in our 2023 line-up.
Dani & Cándido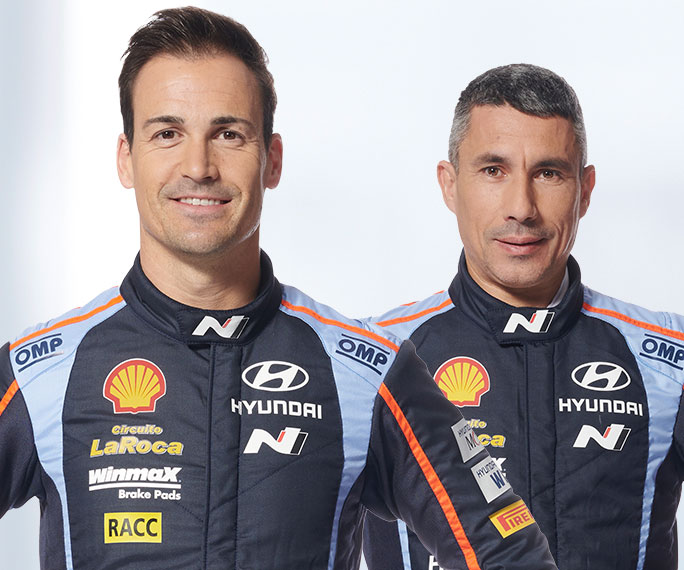 Following a strong 2022 WRC season – the Spaniards claimed three podiums – Dani and Cándido will once again compete in our i20 N Rally1 Hybrid for select events in 2023. The gravel specialists have amassed a total of five podiums from eight events as a partnership, an impressive 63% conversion rate. The upcoming season will mark Dani's tenth with the team, and third with Cándido by his side.
Craig & James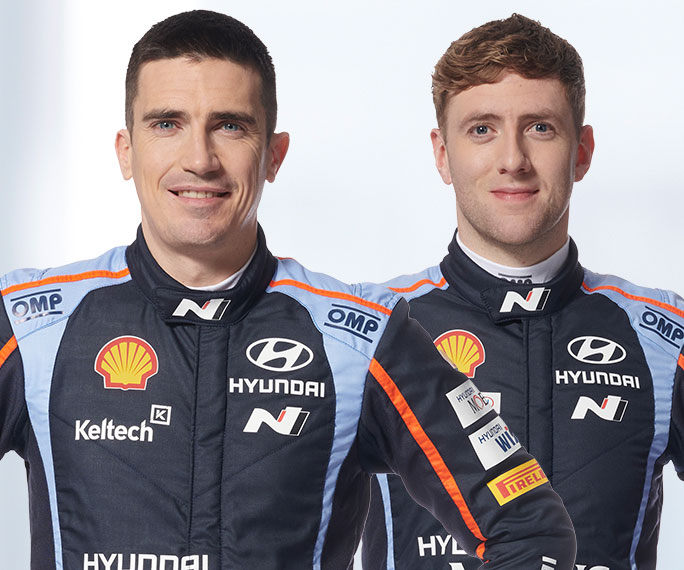 Craig, who competed with us already from 2019 to 2021, returns to our team in 2023 after just one season away. The Irishman and new co-driver James will share our third i20 N Rally1 Hybrid with Spaniards Dani and Cándido in a bid to support our mission to win a third manufacturers' title. Four of Craig's eight WRC podiums have come behind the wheel of one of our cars, including a trio of top-three finishes in 2021 at Rally Estonia, Ypres Rally Belgium and Rally Finland.
Hyundai Motorsport N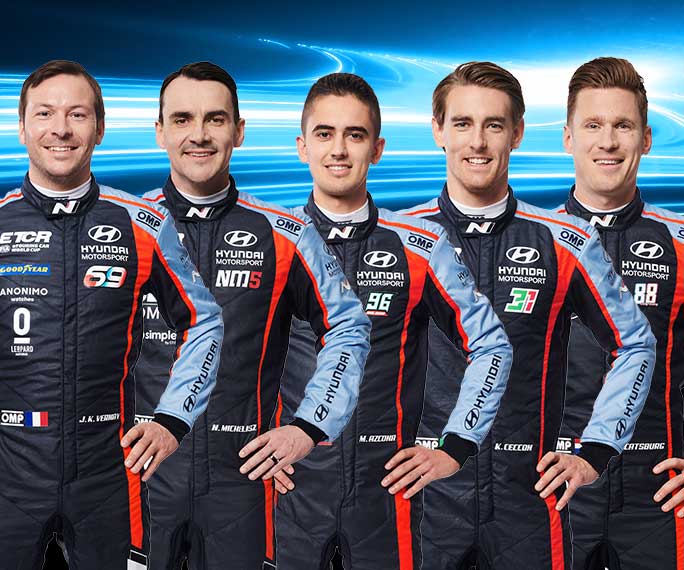 Hyundai Motorsport N #2 – Red wing mirrors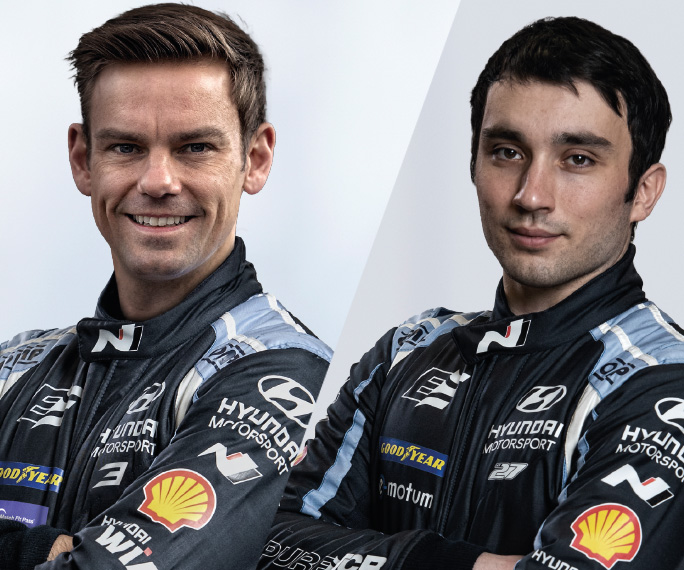 Ole & Jonas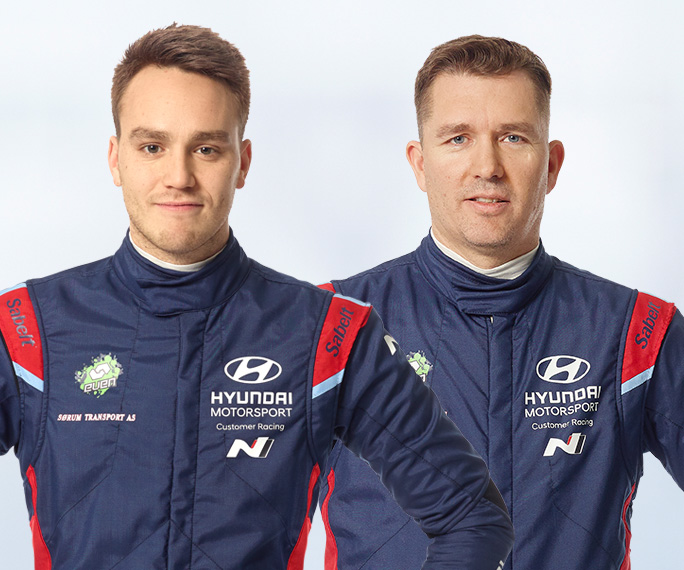 Oliver & Aaron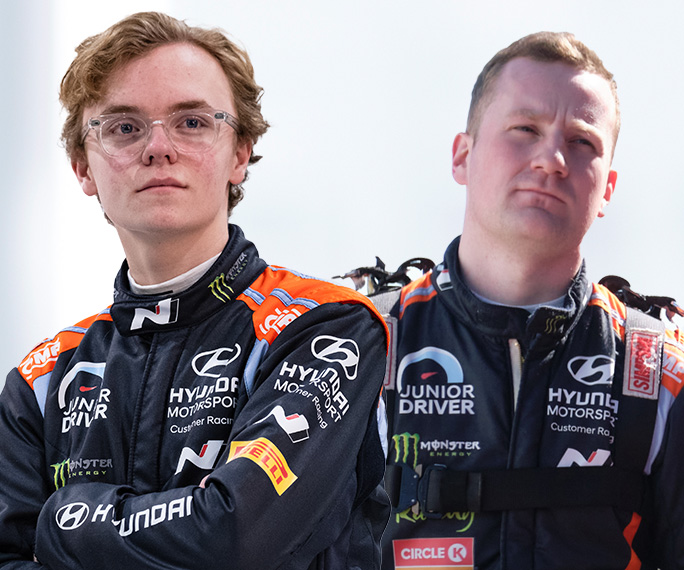 Jari & Mikko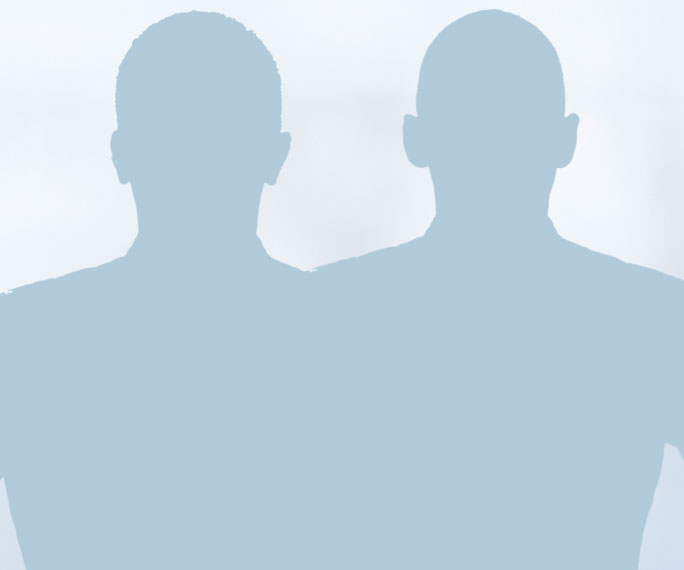 Nikolay & Yaroslav
Dani & Borja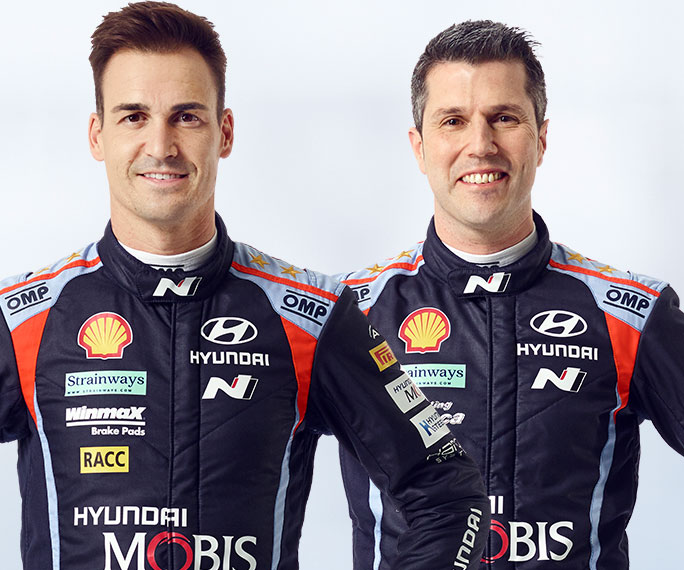 Dani will welcome a new face alongside him in 2021, as he is joined by co-driver Borja Rozada in the i20 Coupe WRC. Dani is set for one final outing with Carlos del Barrio at Rallye Monte-Carlo before he embarks on a new partnership with Borja. "It will take some time to adapt but I am sure we will have a very good season," explains Dani. Borja recalls: "I've known Dani since 2004, when we were competing against each other in the Spanish championship – of course he was much faster than us!" Dani will be looking to add to his winning ways in 2020, and the Spaniards are raring to go. "Borja is really good co-driver: he's a two-time Spanish champion, and the best option in Spain at the moment."
Jari & Antti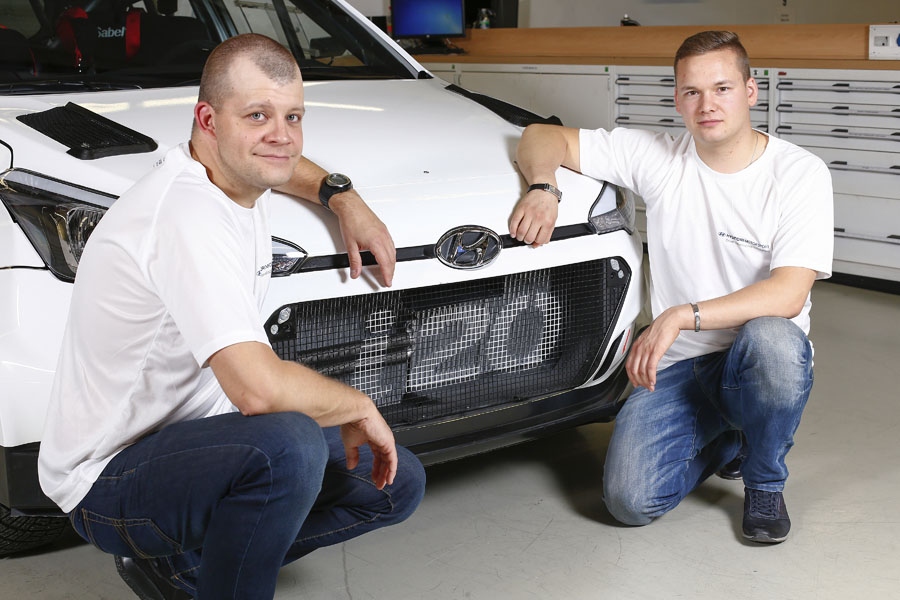 Our 2018 HMDP crew of Jari Huttunen and Antti Linnaketo are in many ways typical of Finnish drivers. Quiet and controlled in person, but fast and furious when competing against their rivals. Selected following a rigorous evaluation process, the Finns have already caught the attention of our team but for the 2018 season they will have a stern test in the WRC2 category against some big name manufacturers and drivers. While Jari's rally debut came in 2013, the pair were first introduced back in the summer of 2014 in a meeting facilitated by the AKK Driver Academy. Since then, they haven't looked back. In 2015, they became Finnish rally champions in the SM3 class, with Jari being named Rally Star of the Future. Just one year later, they triumphed in the ADAC Opel Rallye Cup with six wins in seven events. Their performances opened up the chance to enter the European Rally Championship in 2017, campaigning an R2-specification car. Alongside that, they also stepped up to R5 competition for the first time, entering two events. In just their second start in the four-wheel-drive car, the crew took victory in WRC2 at their home event in Finland, winning the majority of stages ahead of a far more experienced field. Following their HMDP selection, Jari and Antti then took part in Wales Rally GB, which was to be their first rally in a Hyundai i20 R5, privately entered by Sarrazin Motorsport. The opportunity allowed the team and crew to acquire some initial experience ahead of what promises to be an exciting season of WRC2 competition.
Chewon & Martijn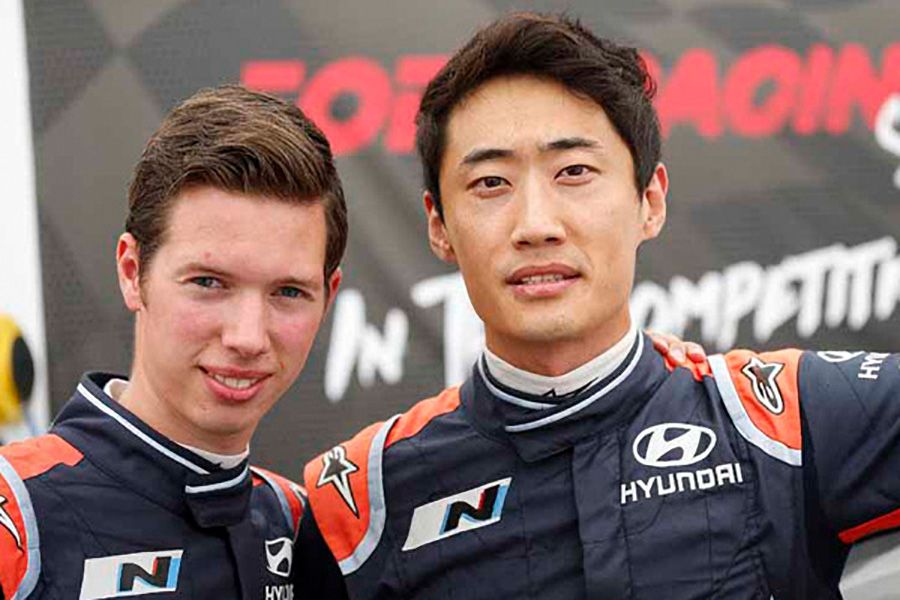 Chewon Lim and Martijn Wydaeghe began working together at Hyundai Motorsport in 2016, making their competitive rally debut in June. Chewon Lim and Martijn Wydaeghe began working together at Hyundai Motorsport in 2016, making their competitive rally debut in June. A former circuit racer, Chewon spent two seasons racing Formula 3 single-seaters in Europe. In December 2015, he was selected from 5,000 original applicants as the winner of national television show 'The Rallyist', which was aimed at finding a new Korean talent for international rallying. The show put contestants through a rigorous testing program, with a range of challenges – physical tests and driving tasks, including a Gymkhana style runs on tarmac and gravel. Kevin Abbring made an appearance along with other experienced drivers to offer their advice. Culminating in a small rally, Chewon was named the overall winner and has now moved to Germany as part of our HMDP line-up. Young Belgian Martijn was chosen as Chewon's co-driver, working with him as he learned the basic techniques of rally driving. In 2016 they took part in seven events in total during the year in an R2-specification car. They also drove on the recce at WRC six events with our team. 2017 began a more intensive phase in the crew's development as part of the HMDP as they step into a New Generation i20 R5 (for more information about the car, visit our R5 section). A 14-event schedule included both tarmac and gravel events with a continued program of training away from the stages.
BRC Hyundai N Squadra Corse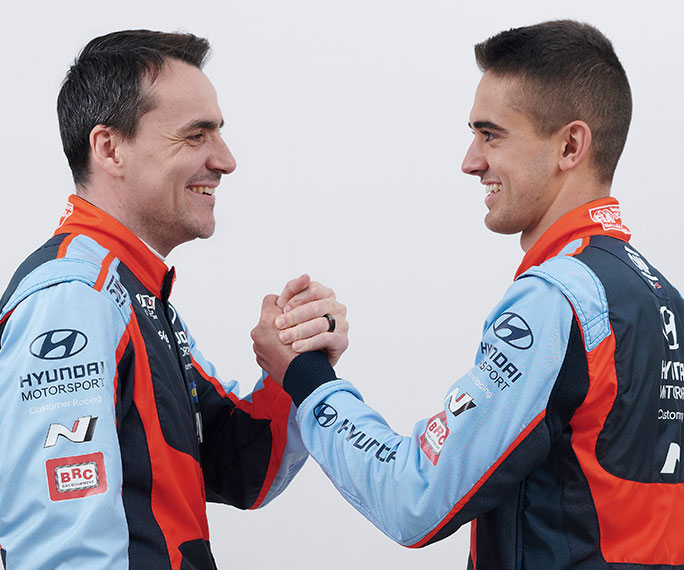 Norbert & Mikel
Engstler Hyundai N Liqui Moly Racing Team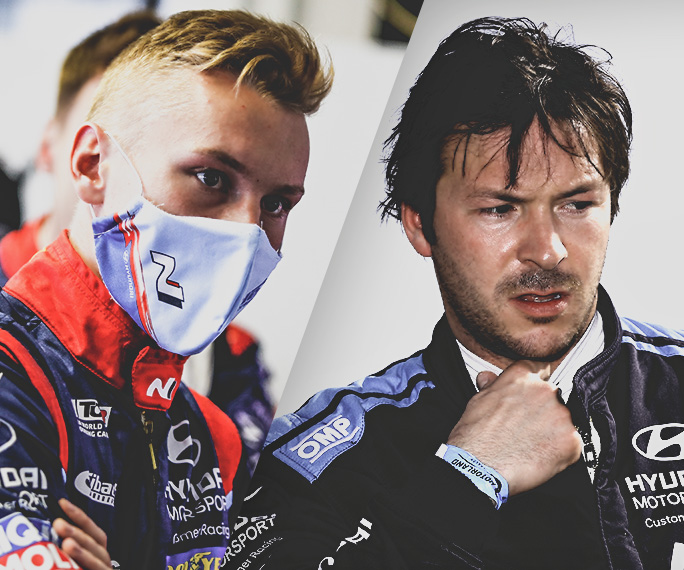 You might also be interested in
---
We are hiring
Career at HMSG
Want to be part of our team? Visit our career page for jobs and application form!
Apply now
Become a Pro
i20 N Rally2
Our Rally2 crew are competing in selected rounds of the WRC2 class with the latest specification of our i20 N Rally2.
Explore
Established on 19 December 2012, Hyundai Motorsport GmbH (HMSG) is responsible for Hyundai's global motorsport activities.
Discover now